John Denver's Home:
STARWOOD IN ASPEN

When John's home was offered for sale in 1998, the local realtor selling the home had the following pictures and description of it on their web site. Following that is the information on the eventual sale of the home as written in The Aspen Times.
"...Annie and I moved to Aspen. It was Christmas 1970. Mountain promontories had always been a part of the equation for us, and when the numbers for 'Country Roads' kept growing, I figured we could afford our dream house....Winter had settled in and there was snow on the slopes; the whole setting went right into your soul." (John Denver in his autobiography ``Take Me Home")
And so began John Denver's love affair with Aspen and Starwood. John found Starwood when it had only been minimally developed and was encouraged by a friend to purchase land, ``I looked out over the valley... I knew we'd found home." The following year John was there for the ground breaking, ``A couple of hours later, there it was, the whole house laid out in pegs and string, pointing through the hundred-year-old scrub oak to the mountains beyond."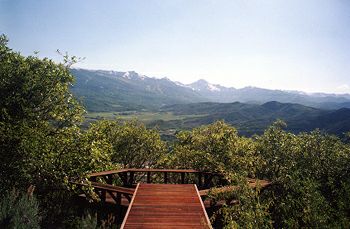 Now, twenty seven years later the late John Denver's dream home is being offered for purchase. The new owner of this fabulous home is sure to enjoy its spacious and inviting living spaces and magnificently private property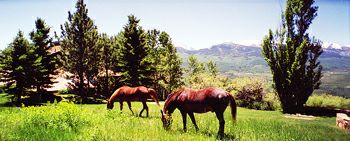 THE PROPERTY
This one of a kind property in Starwood is made up of two deeded lots totaling 7.6 acres. Together these lots afford its occupant some of the most spectacular views in the valley of all 4 ski areas including Pyramid Peak and the 13,200 foot Mt. Daly. The landscaping includes many mature trees and naturally occurring brush. There are flat grassy areas giving this property a potential for horses. Unique water features are found throughout the property. There is a waterfall and summer stream. Small ponds are connected by a bubbling little creek that winds along the front entry steps providing guests with a very tranquil welcome. The compound encompasses three buildings with over 9,000 s.f. of living space.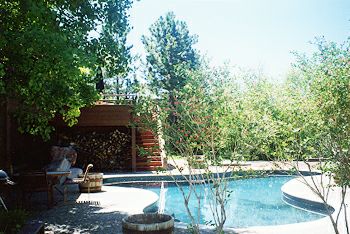 The main house is 6,849 s.f. with 5 bedrooms and 5.5 baths and is situated on its own deeded lot. It is accessed by a circular driveway that is naturally landscaped and private. The main house has a 2 car garage with its own entrance to the house separate from the main entrance. The second deeded lot has its own private drive and a 3 bedroom, 2 bath 2,228 s.f guest house with a separate 1 car garage and spacious office.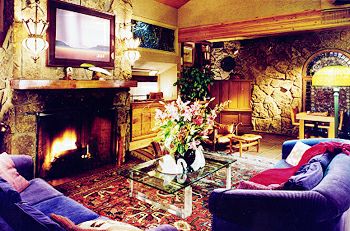 MAIN HOUSE
The main house faces south and drinks in the sun incorporating it into solar energy. The exterior is all redwood with a cedar shingle roof. The home itself is large and meandering with lots of intimate spaces. It is a romantic home with lots of separate gathering places. The kitchen is an inviting gathering place with gorgeous woodwork and a large center island. A separate sitting area has a fireplace and a sunroom leads out to the pool. The pool area includes a large hot tub and in ground trampoline. Decks surround the house and draw guests outside to take in the most spectacular mountain views in Starwood. The large great room has an exquisite stone fireplace and leads again to the decks overlooking the spectacular mountain views that this home was designed to take advantage of. There is a separate office and library as well as an intimate sitting room with fireplace. The dining area is just off the kitchen and here as well as throughout the house is extensive and elegant woodwork. A special inclusion in the sale price of this home is a grand piano in its own special alcove that one can image was a focal point.
The master suite is large with its own fireplace and beautiful built-ins. There are his and her bathrooms and dressing rooms, a sauna and two person jacuzzi. The master bath is separated from the bedroom by a wall of custom stained glass. The master suite has private access to the outdoor decks and the fabulous mountain views beyond which provided such inspiration to its former owner.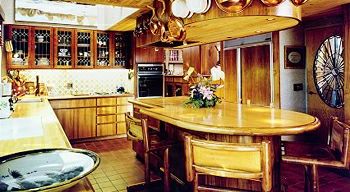 The lower level has a pool room with an attractive pool table included and a three brass lamp chandelier. Additional highlights include private guest rooms, a nursery, wine room, lots of storage and a security system.
GUEST HOUSE WITH GARAGE
A short walk down an intimate lane and over a walking bridge crossing a bubbling stream is the 3 bedroom, 2 bath detached guest house along with another accessory building housing an office with an attached single car garage. The guest house is very comfortable with a large living room, a wood burning stove and an open kitchen. Floor to ceiling windows afford guests spectacular views. The spacious private office also has mountain views and is being offered furnished.
The SALE of the home:
John Denver's house becomes a second home
By Tim Mutrie
Aspen Times Staff Reporter
Date this article ran in the Aspen Times: 4/1/1999
John Denver's former Starwood residence on Johnson Drive sold for $3.68 million last month, according to local realtor Carol Dopkin.
Dopkin declined to identify the buyers, but said a family had purchased the seven-plus acre estate.
"They're going to keep the home and use it as a family retreat and vacation home," she said.
Some local residents and far-flung John Denver fans had suggested that the residence, which went on the market July 8, 1998, be made into a museum to honor the late singer and activist who died in a plane crash off the coast of California in October 1997.
A 6,800-square-foot, five-bedroom main house and 2,200-square-foot, three-bedroom guest house sit on the former Denver estate, Dopkin said.
"The house is a house of intimate spaces," Dopkin said. "It's very romantic with a lot of quality to it. The master bedroom is very unusual because it has a whole wall of stained glass, a Jacuzzi for two, a steam room. [Denver's] study is almost spiritual in feeling and it has a library and reading loft just off of it, and then a deck with a telescope.
"His house isn't just a house, it's an experience," Dopkin said. "It has character to it, and that sounds like it must have been funky, but it wasn't, it was quality. It has a lot of things that I would call timeless. It has very interesting architecture, with lots of wood and lots of solar applications."
Dopkin said Denver and his former wife, Annie, built the two houses in 1975. Both were remodeled in 1984, she added.
"There's a swimming pool and beautiful grounds, suitable for horses. It's just a very romantic house," Dopkin said.
"The place has the most spectacular views," she added.
When Denver purchased the two adjoining lots in the 1970s, "he had his choice of almost any lot in Starwood and he chose this one," she said.
Denver's presence in the subdivision attracted so many fans that the singer put up the funds for the first Starwood guardhouse.
Posted: 4/1/1999